Full Stack Development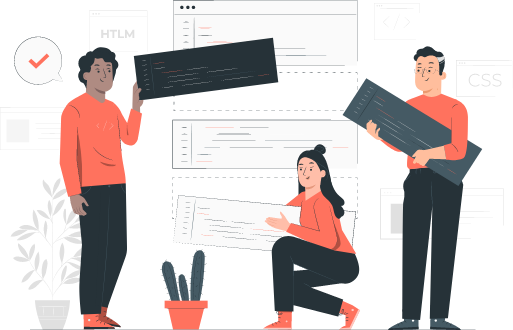 WHAT IS IT?
Consider buying a mobile phone from one vendor, then headphones from another, A scratch protection guard, and a leather case from a third one?. One must ensure that they all are compatible and fit well. On the other hand, if one vendor provides all of them, how welcome would it be.
What if we had a team of experts who understand these different stages and possess strong expertise in one or two of them?. Then such a team can visualize the application in its entirety – from designing the GUI with a designer, developing front-end code, setting up the middle tiers, and configuring the database – and "OWN the ENTIRE" application. That is what Full Stack Development is all about.
What do our experts offer?
They have expertise and experience in open-source-stack, LAMP and MEAN, the two most popular ones.
In addition to the technical expertise, full stack developers possess the following skills:
CREATIVITY
They are creative to visualize the front end with high usability and rich user experience. Out-of-the-box thinking will only help create applications that stand out in today's highly crowded market.
CURIOSITY
They must be inquisitive to learn new technologies – be it framework or library or language – and use them in the project. Today's customers are very demanding and want to use the latest and best technologies
COLLABORATION
The team prides itself on working together and understanding each other so that each member can appreciate the other's contributions. As all possess knowledge of the entire application, collaboration is crucial for seamlessly working together.
CUSTOMER INTERACTION
Full stack developers are involved in requirements gathering, designing, coding, and testing. Hence, they should interact with the customers frequently.
COMMUNICATION
The entire team should pay attention to the details and ensure that data flows smoothly through different layers/modules. Each member should know the complete status of the development process and be cognizant of the challenges that other(s) is/are facing. Clear Communication is the essence of a successful team of full stack developers. The company has recognized these attributes and conducts training sessions often, to reinforce the above important points. Technology can be learnt but soft skills must be mastered only through practice.
BENEFITS
In this approach, the entire team is involved in all the stages of software development life cycle and yields the following benefits from the customer's viewpoint.
Reduced time
Less effort
Less resources
High productivity
Ease of interaction
Cost-effective
Minimum impact of attrition
Complete Control