Full Stack Development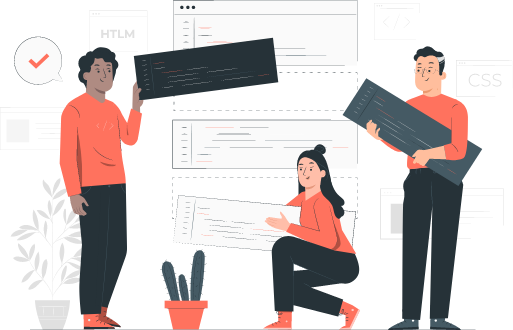 Your Trusted Full-Stack Development Partner
At itTrident, we are passionate about transforming your innovative concepts into robust, user-friendly, and scalable software solutions. As a leading full-stack development firm, we offer a comprehensive array of services to help you breathe life into your digital vision.
Understanding Full-Stack Development
Full-stack development is an all-encompassing approach to crafting software applications. It encompasses expertise in both front-end and back-end development, allowing us to produce seamless and fully functional solutions that cover all aspects of your project.
Our Comprehensive Services
Web Application Development
Our team of full-stack developers excels in creating state-of-the-art web applications. We harness the latest technologies and frameworks to build interactive and responsive web solutions that captivate your target audience.
Mobile App Development
From iOS to Android, we specialize in creating mobile apps that deliver unparalleled user experiences. Our team is proficient in developing native, hybrid, and progressive web apps to fulfill your mobile requirements.
Front-End Development
Our designers and front-end developers collaborate closely to design user interfaces that are not only visually stunning but also intuitive. Using HTML, CSS, and contemporary JavaScript frameworks, we ensure that your applications are both functional and aesthetically pleasing.
Back-End Development
Our back-end experts meticulously design the server-side of your application. They are skilled in languages such as Node.js, Python, Ruby, and more, as well as a variety of frameworks like Express, Django, and Ruby on Rails.
Mobile App Development
Full stack developers are involved in requirements gathering, designing, coding, and testing. Hence, they should interact with the customers frequently.
Database Design and Management
We treat your data with the utmost care. Our team designs efficient database structures, manages data storage, and ensures that your application's data is constantly accessible, secure, and optimized.
API Development
We construct robust APIs to facilitate smooth communication between your application's components. We also specialize in integrating third-party services to expand your application's capabilities.
DevOps and Deployment
Our DevOps engineers guarantee seamless deployment through continuous integration and deployment (CI/CD) pipelines. We handle server configuration and infrastructure, allowing you to concentrate on your core business.
Quality Assurance and Testing
We place a premium on the quality of your software. Our thorough testing processes, encompassing both manual and automated testing, ensure that your application operates flawlessly and securely.
Maintenance and Support
We provide continuous support and maintenance services to keep your applications current, secure, and functioning optimally. We are committed to helping you adapt to changes and overcome challenges.
Consulting and Architecture
If you're unsure where to commence, we offer expert advice on selecting the right technologies and designing the architecture that aligns with your project's specific requirements.
Project Management
Our experienced project managers guarantee the timely and budget-friendly delivery of your project. We keep you in the loop at every stage, ensuring transparency and success.
Why Opt for itTrident?
Expertise: Our team of full-stack developers, designers, and engineers boasts extensive experience and a proven history of delivering successful projects.
Innovation: We remain at the forefront of technology, delivering innovative solutions that give your project a competitive edge.
Tailored Solutions: We recognize that each project is unique. We customize our services to meet your distinct requirements and objectives.
Quality Assurance: Quality and security are at the core of our processes. Your application will undergo thorough testing and be safeguarded against vulnerabilities.
Transparent Communication: We believe in open and transparent communication. You'll be engaged in every phase of the project, and we're always available to address your queries. Ready to transform your idea into reality?
Contact us today to discuss your project and allow ITTRIDENT to be your partner in full-stack development.